City and county leaders visit Missouri state capital for "Christian County Day" of legislative advocacy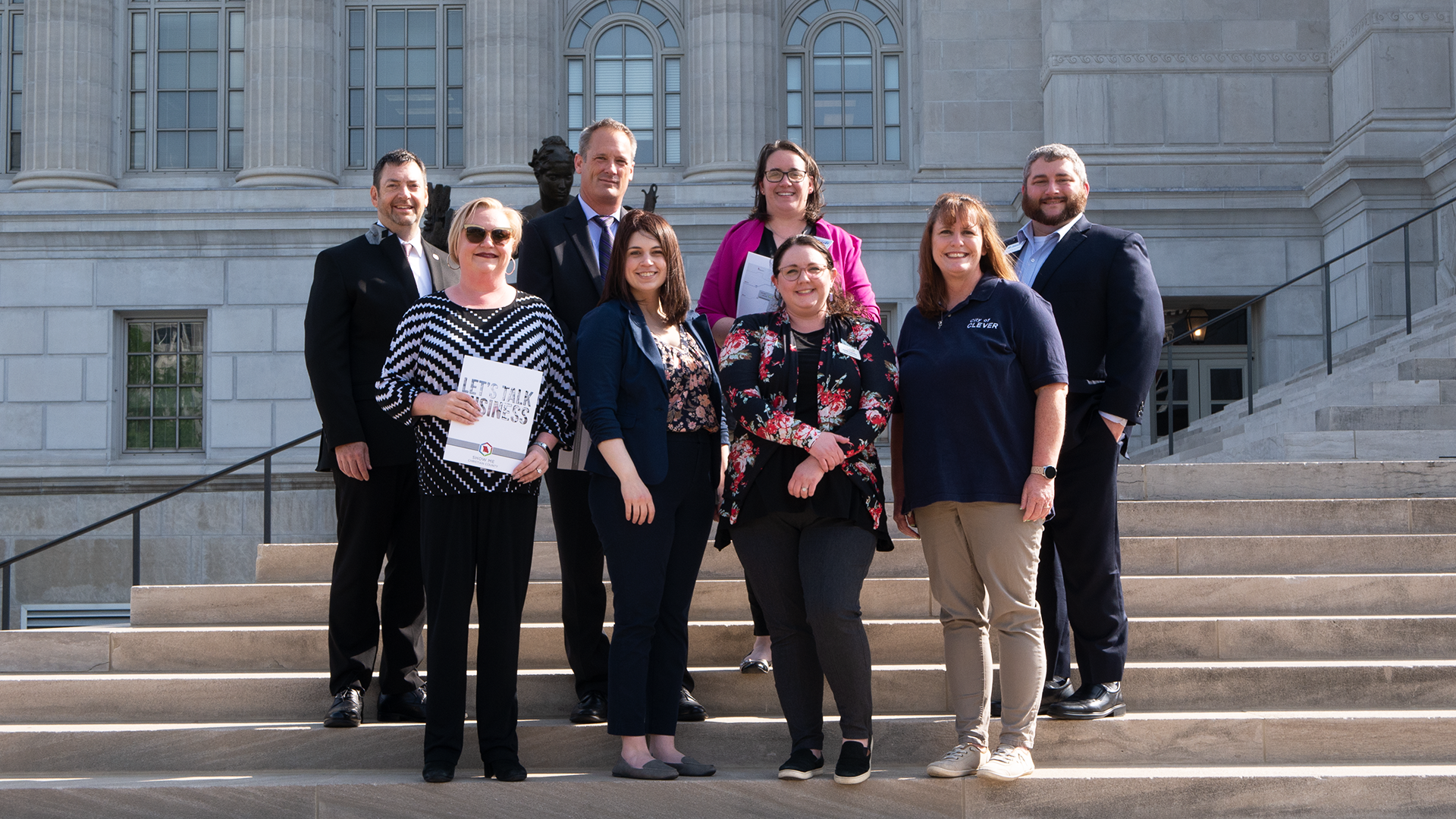 City and county leaders visit Missouri state capital for "Christian County Day" of legislative advocacy
4.28.2023 – Leaders across Christian County visited Jefferson City last Thursday to meet with district and regional legislators for a "Christian County Day" of legislative advocacy. The group, consisting of officials from Show Me Christian County, as well as leaders from Nixa, Clever and the Christian County Library District, met with representatives Bob Titus, Stephanie Hein and Melanie Stinnett to express support and concern for a number of bills proposed this session.
High priority items noted by Show Me Christian County include HB-536, a recently-introduced bill concerning special taxing districts that could make it more difficult for smaller municipalities to establish Community Improvement Districts for road and infrastructure improvements. Another was SB-161, a sales tax exemption for food that has the potential to cripple cities in Christian County who are heavily supported by sales tax revenue. Officials from the City of Clever estimate 45% of their sales tax revenue is generated from grocery sales.
"Unfortunately, I think it's easy for legislators to forget about the smaller communities in Missouri and their needs," said Amanda Satterlee, president of the Clever Chamber of Commerce. "Our county is growing, and the last thing we need is legislation that will hinder our growth. So we're here to put a bug in their ear about the bills we support and the ones that make us nervous."
Concerns about proposed legislation that would impact state funding for libraries inspired Renee Brumett, executive director of the Christian County Library, to join the group in Jefferson City. "For some areas in our county, we are the only place providing technology and resources for families, job seekers, and small business owners. And for our most in-need and senior community members, we deliver materials to homes and assisted living facilities. Less money disrupts library access for thousands of people."
"There's a lot to keep track of in the Missouri legislature," said Rachel Campbell, SMCC Office Administrator and Government Relations Liaison. "Part of our job as economic developers is to keep a pulse on what's going on in Jefferson City and be that voice for the cities, businesses, and residents we represent in Christian County. It's easy for the louder voices in Kansas City and St. Louis to drown the smaller communities out. We need to make Christian County, and the southwest Missouri region, heard also."
Officials at Show Me Christian County anticipate future trips to Jefferson City for further advocacy and to continue building relationships with legislators. Visit showmeccmo.com for a full outline of the organization's 2023 legislative priorities.
###
About Show Me Christian County
Show Me Christian County is a public-private partnership working to support business attraction, business retention & expansion, workforce development, and entrepreneurship throughout Christian County. SMCC is a collaborative partnership advancing economic health through an intentional and balanced approach to growth.
For more information about Show Me Christian County, please visit our website at showmeccmo.com.
Attachments (click to download):