Christian County Announces Groundbreaking for County Government Plaza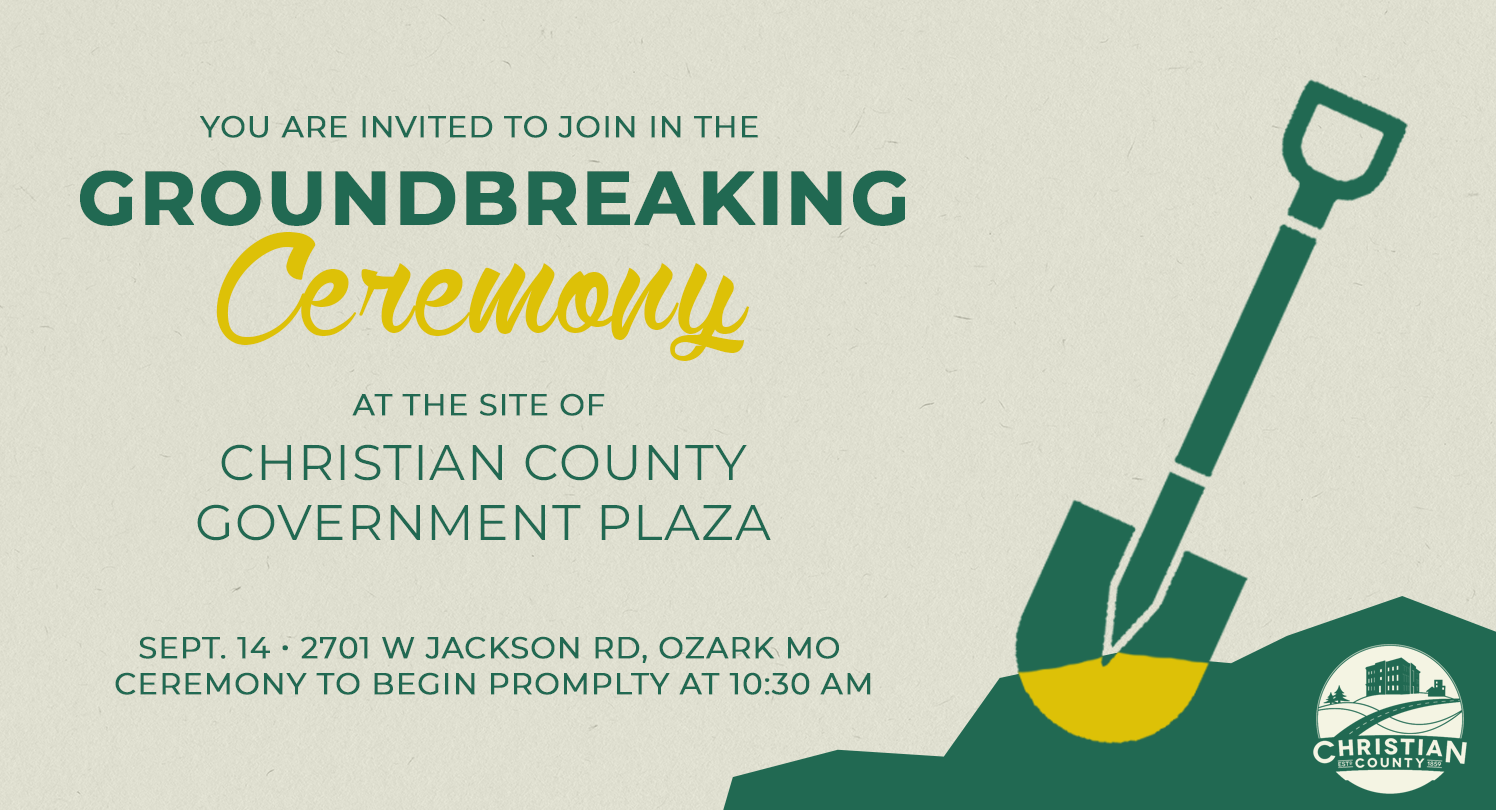 Christian County Announces Groundbreaking for County Government Plaza
FOR IMMEDIATE RELEASE
Media Contact:
Todd Wiesehan | Resource Management Director | Christian County
(Serving as PIO on behalf of Christian County Commission for this project)
417-581-7242 | toddwiesehan@christiancountymo.gov
Ozark, MO – The Christian County Commission invites the public to attend a groundbreaking
ceremony for the Christian County Government Plaza on Thursday, September 14, 2023 at 10:30
a.m., located at 2701 W. Jackson Street. The Christian County Commission has contracted with K & B
Equipment, LLC to begin installation of utility infrastructure at the site.
"This project has been in the planning stage for several years," said Presiding Commissioner Lynn
Morris. "I'm happy to say we have finally reached the point where we can put a shovel in the ground
and begin to make these plans a reality."
The groundbreaking ceremony will mark the first step in developing a 39.36 acre parcel purchased
by Christian County in January, 2020 by expanding water and sewer infrastructure throughout the
site. Phase One of the project will include the construction of buildings for the County's operational
staff, its recycling center and maintenance and storage. The project also includes the development
of a ½ mile walking trail. Additionally, one of the stormwater detention basins has been designed
to also serve as a small outdoor performance venue. The municipal campus will occupy roughly
half of the 39.36 acre property with the remaining areas having road frontage being reserved for
commercial development.
"I am so excited to have been a part of this project," said Western Commissioner Hosea Bilyeu.
"Christian County is a wonderful place to live as demonstrated by our population growth. Our goal
has been to create a new and welcoming government facility appropriate to serve the needs of
future generations of Christian County citizens."
Future Phases will include construction of a centerpiece structure which would be the future offices
of elected officials and their departments as well as added parking.
"The Historic Courthouse on the Ozark square is a symbol of our heritage and has served this
county well for a very long time and I believe it will continue to do so," said Eastern Commissioner
Bradley Jackson. "With that said, trying to meet all the needs of our continually growing population
within the downtown square is no longer realistic and presents ever growing access and parking
problems for the businesses nearby. My hope is that over time this transition will support vitality
here on the square while also expanding economic development opportunities near the future
campus."
Christian County has been one of Missouri's fastest growing counties for many years, increasing in
population from 32,644 in 1990 to an estimated population of 93,114 in 2022.
###